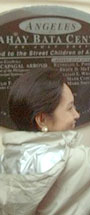 After seeing the plight of the 'street children', members of the Rotary Club of Clark Centennial launched a project in 2001 to assist and provide shelter for them.
Under the leadership of Charter President Reynaldo Pineda, this idea escalated in to a major project, to provide not only care for their basic needs, but a new home, education, welfare, sports, medical and other facilities.
Her Excellency Gloria Macapagal Arroyo, President of the Philippines, upon hearing of the project, made a special visit to inaugurate the center on July 25, 2001. Archbishop Paciano Aniceto offered prayers to open the inauguration ceremony and later blessed the children's center.
Read more....

Our definition of a 'street child' is a child who has no useful meaning in his life, lives in poverty and is often the object of family abuse. He may have no family and is often forced to work on the streets as child labor or as a beggar to support his meagre existence.
Angeles City, Philippines.
In most Asian cities as well as many western cities, the problem of 'street children' is a continuous uphill struggle. Angeles City, located in the farming heartland of Central Luzon, right next to the former USA Clark Air Base, is no exception to this problem.
The DSWD (Department of Social Welfare and Development) has more than 1500 children registered in the city as 'street children'. In reality, the number is much higher.





Rotary Club of
Clark Centennial
found many of these children to have been mentally, physically and even sexually abused; or just dumped on to the streets to fend for themselves by parents or family members who can not afford to care for them.
In several cases these children are forced on to the streets by parents eager to generate extra income. It is not uncommon for a young child to bring home several thousand pesos a month.

Read more....